We Morn the Loss of Matthew LeTourneau, IAFF 4th District Local 22, Philadelphia, PA.

Our Thoughts and Prayers are with the Family, Friends, and Co-Workers of Brother LeTourneau.

Expressions of sympathy or condolences for the family of the Local can be sent to IAFF Local 22, 415 N. 5th Street, Philadelphia, PA 19123-4001.
---
SAFER and AFG Grants to Be Reauthorized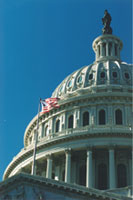 In its very last act of legislative business for the year, the U.S. Senate voted unanimously to pass legislation to reauthorize the Assistance to Firefighters (AFG) and Staffing for Adequate Fire and Emergency Response (SAFER) grant programs. The bill authorizes the two programs at $750 million each – making $1.5 billion available each year for staffing, training and equipment for the departments where our members work over the next six years.
The bill now goes to the president for his signature, and he is expected to sign it, ending a lengthy saga whereby the two programs were threatened with elimination.
The IAFF has been working with its friends in Congress for nearly two years to reauthorize AFG and SAFER, which were due to expire on January 2, 2018. Senators John McCain (R-AZ) and Jon Tester (D-MT) led the effort on our behalf in the Senate. In the House, at the very last minute, Representative Barbara Comstock (R-VA) authored a sister bill to reauthorize AFG and SAFER, but included a new seven-year sunset clause. This is the bill recently passed by the Senate and due to be signed into law.
AFG and SAFER are critical resources for fire departments in every state. We are proud to have been able to win reauthorization for both programs and will work in the coming years to pull out the sunset provision.
---
Former Wilmington Fire Chief Anthony Goode Indicted on Theft, Racketeering Charges
Former Wilmington Fire Chief Anthony S. Goode has been indicted on charges of racketeering, theft and unlawful use of a credit card.
Goode, who retired from the Wilmington Fire Department in August, is accused of stealing from Gallant Blazers Inc., a group that has represented Wilmington minority firefighters, according to the Superior Court indictment.
Goode, who was the organization's president at one time, could not be reached for comment.
The three-page indictment does not provide in-depth details of what Goode is accused of, but states that between Jan. 5, 2009, through Oct. 6, 2016, he knowingly participated in a pattern of racketeering while associated with Gallant Blazers.
During this same time period, he is accused of obtaining property belonging to Gallant or others valued at $50,000 "intending to deprive that person or the owner of same, or to appropriate same."
He also faces two charges of unlawful use of Gallant Blazers' credit card.
---
Pennsylvania House Rejects Bill Targeting Unions' Political Activity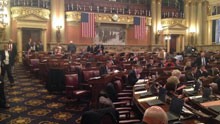 In a defeat for conservatives and a win for union solidarity, the Republican-controlled Legislature has rejected a bill that would have weakened labor's political footing.
Senate Bill 166, which the House recently shot down in a 102-90 vote, would have prohibited state, county and local governments from using their payroll systems to let workers make voluntarily contributions to their respective union's political action committees. The bill would have applied to teachers, police officers, firefighters and other public sector union members after their current contracts expire. The bill only targeted the extra PAC money deductions, not union dues.
The Senate previously approved the bill on three separate votes, and the House once, setting up Tuesday's final vote. Had the bill passed, Gov. Tom Wolf, a Democrat, had vowed to veto it.
---
Philly Firefighters and Cancer: Coincidence or Job Hazard?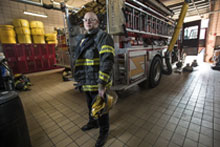 When Mike Polek and Joe Olsen, both big, gregarious Philly firefighters, bumped into each other over the summer, they discovered what they thought was an astonishing coincidence.
Olsen said he had just been diagnosed with what his doctor called a rare cancer, and showed off the large red splotches on his arms.
"I looked at his arms," Polek said. "And the cancer on his arms looked just like the cancer on my legs."
Both men have mycosis fungoides, a form of T-cell lymphoma in which white blood cells become malignant and attack the skin. Neither man had ever heard of it before being diagnosed.
---
Kidde Recalls Combination Smoke/CO Alarms Due to Alarm Failure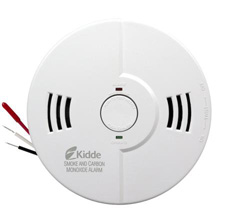 Description:
This recall involves Kidde NightHawk talking combo smoke/CO alarm with model number KN-COSM-IB and manufacture dates between June 1, 2004 and December 31, 2010. The alarms are hard-wired into a home's electric power. The unit has a compartment on the back for the installation of a replaceable 9V backup battery. The alarm is white, round and measures about 5 to 6 inches in diameter. "Kidde" is engraved on the front of the alarm. "Kidde," the model number and manufacture dates are printed on a label on the back on the alarm.
Remedy:
Consumers should immediately stop using the recalled alarms and contact Kidde directly for a free replacement alarm based on date of manufacture or a discount on a new alarm.
Incidents/Injuries:
Kidde has received eight reports of incidents with the recalled alarms. No injuries have been reported.
Sold At:
Electrical distributors and home centers nationwide and online at Amazon.com from June 2004 through December 2010 for between $40 and $65.
Importer(s):
Walter Kidde Portable Equipment Inc., of Mebane, N.C.
---
GOP Tax Plan Targets Local Governments' Ability to Fund Fire Service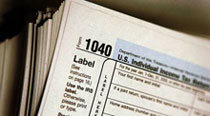 The GOP has released its long-awaited plan to overhaul the tax system, which includes a provision that will significantly stifle the ability of local governments to fund fire departments.
The bill, the Tax Cuts & Jobs Act of 2017, is a sweeping attempt to reform and simplify taxes for individuals and businesses. Numerous exemptions and deductions would be repealed in the name of growth and efficiency. However, one provision caught in the cross-hairs of this bill is the capping of the State and Local Tax (SALT) deduction, which allows workers to lower the amount of taxes they pay to the federal government.
Under the new plan, a worker can deduct up to $10,000 in property taxes, yet any sales or income taxes will no longer be deductible. However, because more than 60 percent of state revenues come from sales and income taxes, this cap will force local governments to cut funding, including funding for public safety.
Fire departments are funded through local taxes that are levied at a fair rate, based on meeting the needs of the community. Drastically capping the SALT deduction will result in higher tax liabilities for millions of middle class workers. To ease the burden of these new taxes, it is easy to envision local governments being pressured to make cuts or lower taxes to levels that simply do not meet the needs of vital public safety services.
---
Legislation to Protect EMS Standing Orders Passes Into Law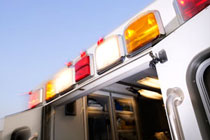 With unanimous support, the House of Representatives passed the Protecting Patient Access to Emergency Medications Act (H.R. 304). The bill, authored by Representatives Richard Hudson (R-NC) and G.K. Butterfield (D-NC), passed the Senate earlier this year. The IAFF worked closely with the representatives to craft and pass this critical legislation.
H.R. 304 amends the Controlled Substances Act (CSA) to ensure paramedics and other EMS professionals may continue the practice of administering controlled substances to patients in accordance with the agency's medical director's standing orders. The DEA, as part of their efforts to reign in illegal prescription drug use, had threatened to disallow EMS professionals from administering many medications under standing orders — a move which would have had a chilling effect on pre-hospital emergency care.
Consequently, H.R. 304 amended the CSA to clarify that pre-hospital care providers are able to administer EMS medications, following standing orders issued by an agency's medical director. The bill removes any regulatory conflict arising out of the long-held practice of following standing orders by EMS providers.

General President Harold A. Schaitberger said, "Utilizing standing orders to deliver life-saving EMS medications rapidly remains a cornerstone of effective pre-hospital emergency medical care. We applaud Representatives Hudson and Butterfield for their laser-focused attention on correcting a bureaucratic hindrance that had the potential to delay the safe administration of life-saving medicines to Americans suffering from serious medical conditions."
With passage in the House and Senate, the legislation moves to the President's desk for his signature.
---
VICTORY – Federal Fire Fighter Retirement Cuts Defeated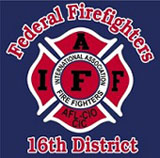 Congress has passed a final budget resolution which excludes cuts to federal employees' retirement.
General President Harold Schaitberger and IAFF staff worked with 16th District Vice President Jim Johnson to fight the provisions in the original House bill, lobbying Congress directly, as well as deploying a cadre of federal members to demonstrate the impact on their lives personally.
The cuts, which were included in a previous House version of the budget, were removed by the Senate. Rather than negotiate differences between the two bills, the House elected to simply pass the Senate-amended version of the bill.
The original House budget would have mandated significant cuts reducing federal fire fighter retirement benefits significantly. Among the changes under consideration were:
A 6 percentage point increase in employee contributions to the Federal Employees Retirement System (FERS) without an increase in any benefit.
The elimination of cost-of-living adjustments for FERS beneficiaries.
The elimination of the supplemental retirement pay for employees subject to mandatory retirement, such as fire fighters and law enforcement officers.
Watering down the value of retirement benefits by basing pension amounts on the highest five years of employees' earnings instead of the current highest three years.
Schaitberger applauds the result. "Federal fire fighters have endured continuous attacks on their pay, benefits and labor rights by this Congress. I am pleased this most recent threat to our federal brothers and sisters is off the table, but if this Congress has demonstrated anything, it is that bad ideas have a way of re-emerging. We must remain vigilant."
It is possible the proposed changes will re-emerge in a future spending bill or other debt-reduction measure. As always, the IAFF will be on the frontlines to protect its federal members.
---
Kidde Recalls Fire Extinguishers with Plastic Handles Due to Failure to Discharge and Nozzle Detachment: One Death Reported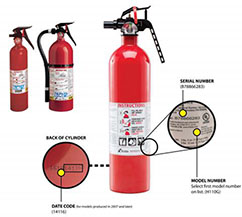 This recall involves two styles of Kidde fire extinguishers: plastic handle fire extinguishers and push-button Pindicator fire extinguishers.
Plastic handle fire extinguishers: The recall involves 134 models of Kidde fire extinguishers manufactured between January 1, 1973 and August 15, 2017, including models that were previously recalled in March 2009 and February 2015. The extinguishers were sold in red, white and silver, and are either ABC- or BC-rated. The model number is printed on the fire extinguisher label. For units produced in 2007 and beyond, the date of manufacture is a 10-digit date code printed on the side of the cylinder, near the bottom. Digits five through nine represent the day and year of manufacture in DDDYY format. Date codes for recalled models manufactured from January 2, 2012 through August 15, 2017 are 00212 through 22717. For units produced before 2007, a date code is not printed on the fire extinguisher.
---
FIRST Center Announces 5 Latest Fire and EMS Research Endeavors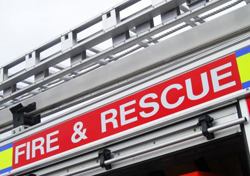 Drexel University's Center for Firefighter Injury Research and Safety Trends (FIRST) is a research enterprise dedicated to supporting the U.S. fire and rescue service through the collection of objective data and analysis. FIRST recently announced five important new research projects, including efforts to study stress in EMS aspects of firefighting and how to keep better track of occupational illnesses and injuries.
The first major announcement concerned a new FEMA R&D grant to study stress and violence in fire-based EMS responders. Jennifer Taylor, PhD, MPH, CPPS, FIRST's director, announced receipt of a $1.5 million grant from the Assistance to Firefighters program.
The project, "Stress and Violence in Fire-based EMS Responders" (SAVER), responds to seven of FEMA's national prevention priorities on firefighter safety projects "designed to measurably change firefighter behavior and decision-making." Never before has FEMA R&D grant funding addressed the EMS aspect of fire, even though EMS accounts for 70%–90% of combined departments' work. The SAVER study seeks to address the lack of research in this area and determine the predictors of fire-based EMS responder injury and stress. Read more about what SAVER entails here.
---

---
Are Firefighters More at Risk of Developing Dementia?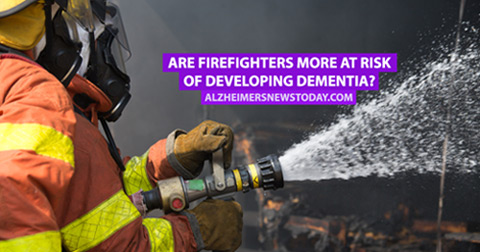 Over the years, researchers have focused on the connection between firefighting and various diseases, including cancer and heart disease, but could firefighters also be more at risk of developing dementia and Alzheimer's disease?
According to an article on firechief.com, although there has yet to be any official studies into the link between firefighting and dementia, a 2015 article highlights the risks of exposure to certain toxins and their link to dementia. These toxins are familiar to most firefighters and they will have undoubtedly come into contact with them at some point in their careers.
---
Study Highlights Link Between Firefighters' Work and High Blood Pressure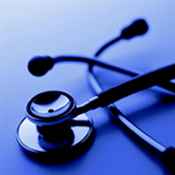 The U.S. Fire Administration alerted stakeholders about a recent, NIOSH-funded study about whether working conditions of career firefighters are associated with elevated blood pressure and hypertension. The research study by the University of California, Irvine School of Medicine found there is a link between the job demands of career firefighters and HBP.
The study investigated whether working conditions such as the number of 24-hour shifts, number of calls, sedentary work, job strain, and other physical demands are associated with elevated blood pressure and hypertension. It involved 330 career firefighters from Southern California who completed a firefighter-specific occupational health questionnaire and had their blood pressure and hypertension levels clinically assessed.
The study authors found there is a link between high job demands (many additional 24-hour shifts in the past month and increased demands over past years) and high blood pressure among career firefighters. They reported there is a need to optimize the collective and individual workload of firefighters by limiting the number of 24-hour shifts that a firefighter can work and recruiting new firefighters. Half of the hypertensive firefighters (mostly with mild hypertension) had uncontrolled high blood pressure, they found.
---
DISPATCH Special Edition: IAFF Center of Excellence
The grand opening of the IAFF Center of Excellence for Behavioral Health Treatment and Recovery - the first facility of its kind exclusively for IAFF members - was held March 5, 2017. www.iaffrecoverycenter.com
---
---
New NFPA 1710 Explainer Video
NFPA 1710 is the internationally accepted standard on minimum crew size and operational staffing for career fire departments.
---
Second Edition Voice Radio Communications Guide Released
The importance of radio communications for fire fighter safety is the focus of the newly-released Voice Radio Communications Guide for the Fire Service.
Developed by the IAFF in partnership with the U.S. Fire Administration (USFA) and supported by the U.S. Department of Homeland Security (DHS) Science and Technology Directorate, First Responders Group, Office for Interoperability and Compatibility, this second edition provides the fundamental awareness of radio communications technology and human resource issues, and covers basic radio technology, digital and analog technology, conventional and trunked radio systems, portable radios, system design and implementation, interoperability and spectrum licensing.
---

The IAFF, along with the International Association of Fire Chiefs, Metropolitan Fire Chiefs, the Congressional Fire Services Institute and the International Fire Service Training Association, have updated and released the 3rd Edition of the Fire-Based EMS Toolkit.
Updates to the online toolkit include up-to-date information on Fire-Based Community Healthcare Providers (FBCHP) - or "communityparamedicine" - and a new section on responding to violence, including resources for active shooter response.
---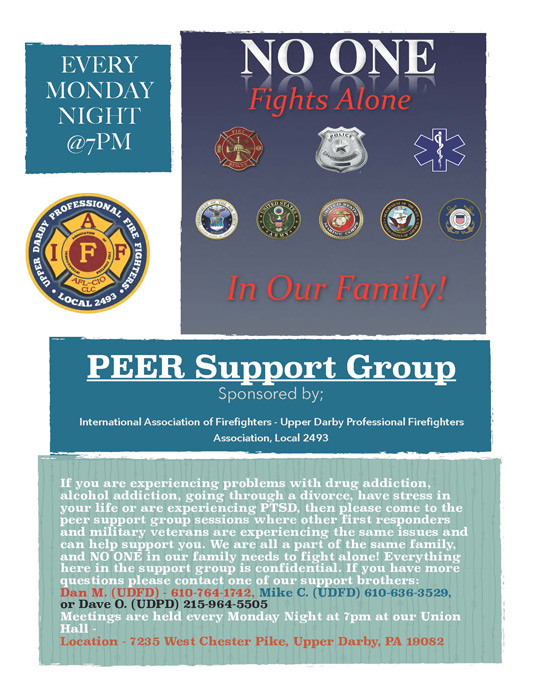 ---
First Responder Guide to Burn Injury Assessment and Treatment
The International Association of Fire Fighters Charitable Foundation Burn Fund has partnered with the American Burn Association to develop this manual to provide first responders (Fire Fighters and emergency medical providers) with the basic training and knowledge necessary to effectively assist those who have suffered a burn injury or cold exposure,
This manual provides a comprehensive, general overview of burn and trauma injuries. It takes readers through each step of a response, providing them with simple explanations and classifications of injuries, depictions of the physiological effect these injuries have on the body, initial injury assessment and on-scene management guidelines, as well as basic treatments
to administer during the first minutes of a response.
The ultimate goal of this project is to help ensure that all first responders are more fully capable of assessing and managing a burn injury. When first responders are prepared, those who have sustained a burn injury are provided with the best possible treatment, and the chances for patient
survival and recovery are greatly increased.
Production of this manual was funded through a Fire Prevention and Safety Grant awarded through the Assistance to Firefighters Grant Program. Special thanks are given to the Office of Grants and Training at the U.S Department of Homeland Security. To receive your copy/copies free of charge email Tom Flamm at tflamm@iaff.org or call 202-824-8620.
Kidde Recalls More Than 5 Million Combination Smoke, Carbon Monoxide AlarmsKidde is recalling 3.6 million smoke alarms in the United States, and another 1.5 mllion in Canada, the company and the U.S. Consumer Product Safety Commission recently said.
---
The Executive Board and represented paid professional firefighters, EMT'S and Paramedics of the Greater Delaware Valley Professional Firefighters Association congratulate Past IAFF Local 22 Vice President Tim McShea upon the occasion of his retirement after more than 37 years of service with the Philadelphia Fire Department.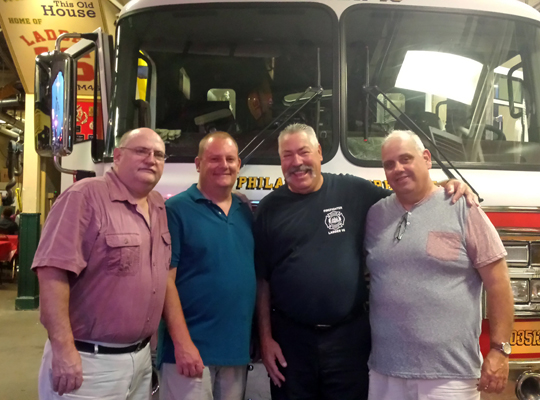 ---

---

---

Important Information on Supreme Court Health Care Decision
As many of you are aware, recently the Supreme Court handed down another landmark decision addressing the president's controversial health care law known as the Affordable Care Act (ACA). In the case of King v. Burwell, the court was charged with determining if individuals purchasing health care through the federal exchange were permitted to receive tax subsidies. Since the court's ruling, we have received numerous questions regarding the impact of the ruling on our members and their health plans. Generally speaking, there is no immediate effect on IAFF members or their plans. To help our IAFF members to better understand the ruling, we have prepared the following supplemental materials:
Regardless how the Supreme Court ruled, we have a major concern over the portion of the ACA which imposes a 40 percent excise tax on high-cost health plans beginning in 2018. The IAFF has taken a leading role in a coalition of labor and corporate interests in trying to repeal the excise tax. Current legislation (H.R. 2050) to repeal the tax has been introduced by Representative Joe Courtney (D-CT), a bipartisan bill with more than115 co-sponsors. We will continue our fight to repeal this provision of the ACA and work to ensure that the benefits our members and their families enjoy will not be diminished. I hope the information proves helpful. As always, I appreciate your hard work and leadership.
Fraternally,
Harold A. Schaitberger
General President
---
What Chris Christie Didn't Tell N.J. About Pension Payments: Opinion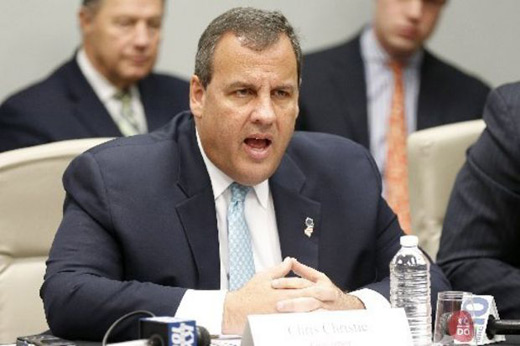 When Gov. Chris Christie praised himself during the State of the State address for making the largest contributions to the State pension funds of any governor in New Jersey history, that statement was true, but not accurate.
While Gov. Christie has contributed $2.9 billion (if he makes the reduced $681 million payment for FY2015), what he fails to be clear about is that he will have skipped $14.9 billion in required pension payments during the past five years as Governor, according to his own Pension & Health Benefit Study Commission's Status Report.
Former Gov. Corzine made $2.1 billion in pension payments while skipping an additional $6.4 billion required from 2007 to 2010.
In fact, Gov. Christie's $14.9 billion skipped pension payments eclipses the $12.8 billion combined missed payments of his five predecessors over a 15-year period from 1996 to 2010. That was a pretty important fact that he omitted from his State of the State address.
For the last three years Gov. Christie has traveled the country congratulating himself for his 2011 bipartisan pension reforms, including prominently mentioning it during his keynote address for Mitt Romney at the 2012 Republican National Convention. He then failed to follow through on making the required payments.